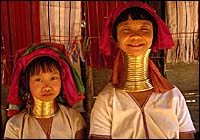 Thailand
Exotic Dining Tours

International Dining Adventures, based in Seattle, runs trips to Bangkok, Chiang Mai, and Phuket for food lovers. The idea is to explore the role of food in Thai culture through activities that you couldn't arrange on your own.

The trip's activities include a kantoke dinner and other authentic meals, an excursion on a fishing boat, museum visits, a floating market tour, and three cooking lessons. You're accompanied by guides who are experts in Thai culture, cuisine, and language.

For more information, email International Dining Adventures at info@intldining.com, or call 1-800-447-6080.