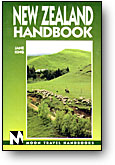 New Zealand
Land of the Kiwi

New Zealand's mix of people will tell you much about what they like in food: about 3 million are of British descent, while about 280,000 or native Maori and 250,000 are Pacific Islanders. Consequently, the majority of the dishes are of British derivation but the other communities contribute their own flare and influences. Once near cultural extinction, the Maori have mostly adapted to urban life and the government has established school programs that teach the Maori traditions, language, arts and culture, fostering nationalism and pride in Maoritanga, the Maori way of life. It is course, the land of the kiwi, their flightless national bird, and the kiwifruit, the oval, fuzzy, tart green fruit so popular today.


In the following articles, Jane King offers us a culinary guide from her New Zealand Handbook, by Moon Publications, Inc. ($19.95).

For more information on Moon Publications, visit their website at www.moon.com. Email: travel@moon.com. Call 800-345-5473 to order any of the Moon Travel Handbooks.