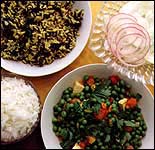 India
A Continent of Flavors

The cuisine of India can hardly be done justice in a few paragraphs. Distinct cooking styles exist as a result of differences in India's vast geography, climate, and culture.

India's area covers approximately 1/3 the size of the United States! The cuisines from countries that border India are vastly different as well: China, Pakistan, and Nepal to name a few.

Join us on this fascinating culinary tour...