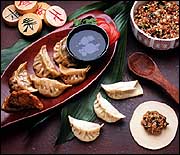 China
My Mom: The Chinese Cook

by Mimi Rippee

The years I spent growing up in the beautiful state of Washington have provided me some of my fondest food memories. The most memorable have to do with intricate Chinese meals prepared by my mother. Although not Chinese, she was nonetheless a tireless international cook who strived for authenticity and perfection in her culinary endeavors.

With a French mother and Italian father, our daily meals were about more than simply eating. Our family dinners were about tradition, family, and manners. For Mom, mealtime was also about enlightening my sister and I on all kinds of food, whether we wanted enlightenment or not. As a pre-teen, I was more than a little resistant when it came to eating unfamiliar food!

This was particularly true during our years living in Seattle. My mother hooked up with an adorable Chinese woman who was about my size. Mrs. Chin had a shop at Pike's Place Market on Puget Sound, close to my favorite German deli. I had to concentrate hard to understand Mrs. Chin, and remember nodding my head an awful lot. Mrs. Chin, who had also authored a cookbook, ended up teaching Chinese cooking lessons to my mother in exchange for sea cucumbers, a Chinese delicacy.

On a weekly basis during the summer months, my parents would scuba dive in the chilly sound, gathering all the sea cucumbers they could find. These are not pretty animals. I can't remember if I tried a taste or not; but I do remember my mother, who ate everything, telling me that they tasted like shoe soles.

To say the least, mom got extremely carried away with Chinese cooking. Our kitchen smelled funny, for one thing. Those of you who have shopped at Chinese markets know what I mean. There is that unmistakable aroma of dried fish and black mushrooms. Mom loaded up on all the delicate Chinese ingredients she could find, even though they were packaged without the benefit of English translation.

Stir frying. That is most people's idea of Chinese cooking. Not to my mother. Her meals were multi-course ones, often starting with soups with strange names such as winter melon soup and shark's fin soup. Once she even made bird's nest soup. You can imagine the jeers and taunts from her unappreciative family members when announcing this first course. My sister was more experimental than I; but neither of us had a choice. This was dinner.

My mother steamed buns, fish, and even vegetables in her gigantic bamboo steamer. She would hop around, gathering everything up at its appropriate time in order to serve every dish properly cooked. My only bad memory is when Mom prepared tiger lilies - fresh ones. Although a flower lover, to this day I can't look at lilies without that nagging, sick memory of their flavor and texture.

Mom's dessert was often lychee nuts, whose taste reminded me of a cross between roses and velvet. Too fragrant for my 12 year old taste buds.

The most extreme meals, but for me, the most enjoyable ,were the hot pot nights. A hot pot is like a giant metal cauldron with its own built-in charcoal pit. In the center of the cauldron is a chimney. In essence, the hot pot is shaped much like an ornately decorated tube pan attached to a small hibachi.

After the fire is started underneath, flavorful broth is poured into the pot. The broth remains hot through mealtime. My mother had a special table built so that the hot pot would not ruin our antique dining table.

To do hot pot properly, plates of raw food are placed around the hot pot, everything thinly-sliced for fast cooking. Shrimp, pork, fish, beef, and chicken. Plus also plates of bean curd, eggs, cabbage, cellophane noodles, and more. Soy sauce was available for seasoning. For me, the fun was cooking my own food.

Not only did Mom have the hot pot, a major investment I'm sure, but she also had the proper bamboo tongs for grabbing, the metal sieves for cooking and retrieving, and the beautiful porcelain bowls and spoons for indulging. Mealtime would go on for hours, mostly because you could only eat a few bites at a time. Now this was a truly wonderful dining experience!

My mother might have ended her Chinese cooking phase when we moved to the opposite coast. Or maybe when she finally realized she wasn't having enough fun! Mom never sat down during her tenure as a Chinese cook. What my mother taught me from those years in Seattle is that I will never be a great Chinese cook because I am too selfish. I like to cook; but I also like to enjoy mealtime - especially with guests. But Mom did provide me with a unique gastronomic experience, for which will always be grateful.