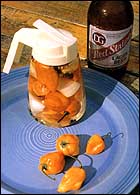 The Caribbean
The Beauty of Tropical Cuisine

Over 7,000 islands make up the Caribbean Isles, forming a great arc that stretches from Florida to Venezuela, and enclosing the Caribbean Sea. The cuisine of the islands can best be summarized as tropical, the result of an incredible array of beautiful food that grows in an area best known for its beaches and warm, fragrant breezes.

Some of the countries and islands found in the Caribbean include Cuba, Curacao, Dominica, Dominican Republic, French Antilles, Guadeloupe and Martinique, Haiti, Jamaica, Trinidad and Tobago, and The Virgin Islands — among others.

Pictured on the right are Scotch Bonnet Peppers, an ingredient used in several Caribbean dishes.