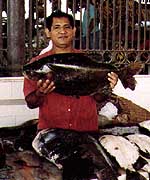 Brazil
Menu Guide

coxinhas: an appetizer of breaded "mock" chicken legs. It is also a pastry filled with chicken.

siri recheado: crab shells stuffed with a mixture of minced crabmeat, cilantro and hot peppers, topped with grated cheese.

rabada ensopada: oxtail stew.

feijoada: Brazil's spectacular national dish. It is an elaborate stew with black beans and many different smoked and sun-dried meats, especially pork, and smoked sausages. It is served with several traditional side dishes, including orange slices, shredded kale, rice, manioc (cassava) meal browned in butter and a hot pepper and lemon sauce.

picanha com batata doce frita: a popular cut of steak served with fried sweet potatoes.

bobo de camarao: fresh shrimp in a puree of dried shrimp, manioc (cassava) meal, coconut milk and nuts, flavored with a palm oil called dende.

peixe na telha: fish grilled and served on a tile.

couve a minera: shredded kale sauteed briefly in oil, onion and garlic.

abacaxi assado: baked pineapple.

doce de leite: a rich, soft caramel mixture made from thickened milk and sugar. It is sometimes put in small pastry shells.  


Copyright: Photos & Recipes are from "Eat Smart in Brazil: How to Decipher the Menu, Know the Market Foods & Embark on a Tasting Adventure," by permission of the publisher, Ginkgo Press, Inc. Text courtesy authors: Joan & David Peterson.